"Go on boy, what are you waiting for?"

The morning after the celebrations, while everyone is in their houses drinking hot beverages and eating goodberries and rice-sticks, a lone boy runs towards the Noble Mansion. The guards and the boy argue for a moment untill they help him open the huge decorated wooden door. The boy keeps running in the halls, he asks two servant girls for directions then runs again, happy, with the beautiful gold piece in hand, that he got for this job. Untill, finaly, he knocks on a door.

"Mister! Mister Gil-agagel! I have a message for you" the boy anxious to complete the job and get his other gold piece, pushes the paper underneath the door, and runs again towards the library, to find Lord Yohan Berg.

The message reads

Mr. Gil Agladhel

Greetings, this fine morning. I would request your presence in the library's private rooms, on the upper floor. We have to discuss matters of administration and local security. I hope I do not intrude in your precious time, please consider formal wear, as you might have to show a certain "face" to the commons, in the months to come

With regards
August Lord of the republic, Johan Berg

Johan Berg




Posts

: 20


Join date

: 2016-11-18



An elf wearing golden armor and a full faced helm, walked gracefully, yet with the sure-footed gait of a warrior who has fought many battles. The warrior entered the halls of Johan Berg and when questioned by the guards, the sword-belt was removed, as was the longbow, the shield and the javellins. Last was the helmet, and to  the astonishment of them all she was a she-elf of extraordinary beauty: her long golden hair were held in place by a silver tiara, she had big light-blue eyes and a skin like marble. Then she spoke, with a melodious voice, yet cold like ice: "I am Ilsevele Mirritar and I am here in behalf of Aerandir Gil-Agladhel, bearing my Master's reply to the "official" message Lord Berg, August of this city's Republic, sent with his trusted courier to my Lord. I am to give it to him personally, with all the ceremony and respect as befits such a noble persona as Lord Berg and in doing so, returning the honour done to my Master, by such an invitation", and she flashed a most disarming smile.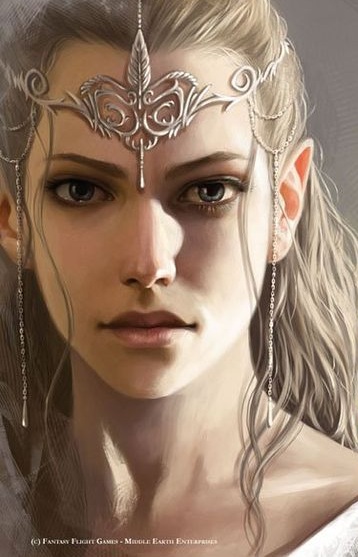 Aerandir Gil-Agladhel




Posts

: 6


Join date

: 2016-12-20



A voice heard from behind the door, says "Let her in Timothy."

Johan Berg




Posts

: 20


Join date

: 2016-11-18



Ilsevele curtsied with unparalleled grace and then handed a parchment which had a seal depicting a star. The message, that was in the finest calligraphy, read:

"Dear Lord Berg,


I gladly accept your invitation.


Best Regards
Gil-Agladhel of the Blessed Realm"

Ilsevele waited for Johan Berg to read the letter and , wearing her finest smile, asked warmly:


"Oh, Lord Berg, I am also to ask you if the raiment worn in the presence of Corellon Larethian, in his court in the Blessed Realm, is formal enough for your meeting ."

Aerandir Gil-Agladhel




Posts

: 6


Join date

: 2016-12-20



"Any kind of formal wear that impresses the commonfolk is good enough, where is your master though? I am tired of waiting"

Johan Berg




Posts

: 20


Join date

: 2016-11-18



"Oh,  Lord Berg, I think that there has been a misunderstanding: My master, Aerandinr Gil-Agladhel, holds the Serene Republic of Gutenbeere in too high an esteem to consider that he would receive such an extemporaneous invitation for a formal meeting; so he presumed that his courier would be enough for such an occasion. He will most assuredly present himself formally when he is invited to do so in like manner. He would also appreciate  he received any invitations at least one day prior to the event, as it is the custom for such formal things. 
So, most dear and noble Lord Berg, is there anything else that I, 
Ilsevele Mirritar
, would be able to do for you? If not, I would like to ask if you could please excuse me? It has been a great pleasure talking with you.

" 
said Ilsevele Mirritar, curtsying with respect .

Aerandir Gil-Agladhel




Posts

: 6


Join date

: 2016-12-20



Lord Berg stands up, "The republic works for efficiency and for it's people, not for the courts of nobility. If he wishes to partake in the endeavours of equal men, to better their city, he has to abide by the beurocracy of this city." he takes a few forms of the table, and passes them to Ilsevele. "Take these to your master, these are to be filled and posted on the office of the magister. If he makes a copy for each of the council members too, that is courtesy in a beurocracy, not honeyd words and wasting time of officials that have work to do. You are excused"

Berg sits back at his table puts on a pair of glasses and continues reading some papers

Johan Berg




Posts

: 20


Join date

: 2016-11-18



"Equality of the people of the democracy of the state was and always has been the dream of us all. The same goes for education and politeness. Let's hope that we shall achieve those goals here in Gutenbeere. Farewell Lord, sir" said Ilsevele and left,  taking the papers.

Aerandir Gil-Agladhel




Posts

: 6


Join date

: 2016-12-20




---
Permissions in this forum:
You
cannot
reply to topics in this forum